PRODUCTS Products
Thread design, won't damage barrel's thread when lock up.
Lock tightly on to barrel, airtight, makes shoot more stable.
Precision nozzles from soild metal have smooth internal surface with integrated.
Precision concentricity spit not skewed.
The special tip shape prevents the material sticking on the top of tip, which enables the shot volume more accurate.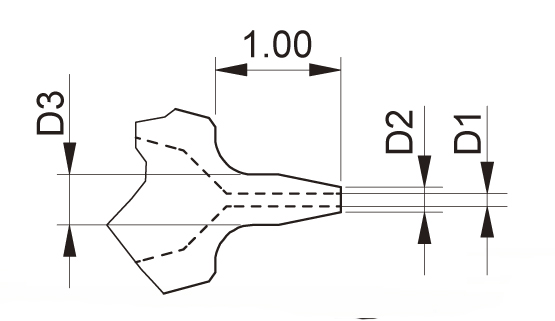 (Unit:mm)
| | | | | |
| --- | --- | --- | --- | --- |
| PRNT | PRN | D1 | D2 | D3 |
| PRNT 0.1 | PRN 0.1 | 0.10 | 0.20 | 0.40 |
| PRNT 0.15 | PRN 0.15 | 0.15 | 0.25 | 0.45 |
| PRNT 0.2 | PRN 0.2 | 0.20 | 0.30 | 0.50 |
| PRNT 0.25 | PRN 0.25 | 0.25 | 0.35 | 0.55 |
| PRNT 0.3 | PRN 0.3 | 0.30 | 0.40 | 0.60 |
| PRNT 0.35 | PRN 0.35 | 0.35 | 0.45 | 0.65 |
| PRNT 0.4 | PRN 0.4 | 0.40 | 0.50 | 0.70 |
| PRNT 0.45 | PRN 0.45 | 0.45 | 0.55 | 0.75 |
| PRNT 0.5 | PRN 0.5 | 0.50 | 0.60 | 0.80 |
| PRNT 0.6 | PRN 0.6 | 0.60 | 0.70 | 0.90 |
(Unit:mm)
| | | | |
| --- | --- | --- | --- |
| KHN | D1 | D2 | D3 |
| KHN 0.1 | 0.10 | 0.25 | 0.40 |
| KHN 0.15 | 0.15 | 0.30 | 0.45 |
| KHN 0.2 | 0.20 | 0.35 | 0.50 |
| KHN 0.25 | 0.25 | 0.40 | 0.55 |
| KHN 0.3 | 0.30 | 0.45 | 0.60 |
| KHN 0.35 | 0.35 | 0.50 | 0.65 |
| KHN 0.4 | 0.40 | 0.55 | 0.70 |
| KHN 0.45 | 0.45 | 0.60 | 0.75 |
| KHN 0.5 | 0.50 | 0.65 | 0.80 |